M E S H A R C H I T E C T S
Grade 1 Conservation and Contemporary Design Architects
69 Middle Abbey Street,
Dublin D01 P5Y4
01 563 9021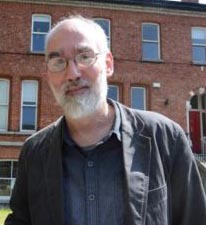 Tom McGimsey
email: tom@mesh.ie
01 563 9021

Thomas McGimsey M.R.I.A.I. BArch(Hons). Msc. Historic Preservation
Thomas studied architecture at North Carolina State University School of Design, earning a Bachelor of Architecture in 1987. He has been practicing architectural conservation since 1989, and received a Master of Science in Historic Preservation from the prestigious University of Pennsylvania in 1992.
During the summer of 1989, Thomas studied conservation at the highly acclaimed ICCROM training institute in Rome. Prior to moving to Ireland in 1995, he worked for the US National Park Service, serving as Historic Architect in Valley Forge and Independence National Historical Parks, overseeing the conservation and restoration activities to these parks' eighteenth and early nineteenth-century historic structures including Independence Hall and Congress Hall.
Since moving to Ireland, Thomas has been employed as a project architect and conservation consultant, preparing numerous conservation reports for the Heritage Council, Dun Laoghaire and South Dublin CountyCouncil, Dublin City Council and Offaly County Council. He has prepared surveys and conservation documents for such important structures as Bishopscourt House in Kill, Co. Kildare, Russborough House in Blessington, Co. Wicklow and Kildrought House, Celbridge, Co. Kildare, Aldborough House, Dublin, and Carrigadrohid Castle, Co. Cork. Current projects include the restoration of a Buddhist Temple in Ulaanbaator, Mongolia and the restoration of a terrace of Victorian houses in central Philadelphia.
Thomas' approach to building conservation includes in-depth archival research, detailed building survey and measurement, analysis of decay mechanisms and preparation of appropriate repair strategies. He is a fully qualified architect, currently maintaining a professional license in Pennsylvania and membership in the Royal Institute of the Architects of Ireland, by whom he has been accredited as a Conservation Architect Grade 1.